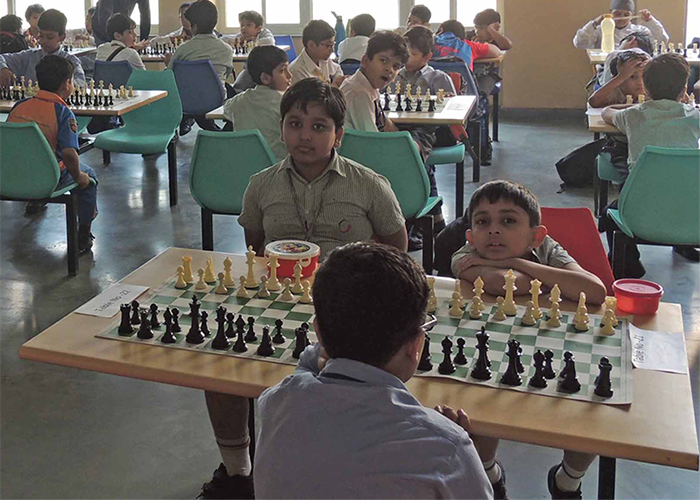 Chess - widely known for sharpening analytical abilities among students, is an ancient game (as old as 1500 years) that has been quiet popular among children, adults and the old. In many parts of the world, chess has been included as an integral part of the curriculum as it builds and improves reasoning and problem solving capabilities among students.
Knowing the usefulness of the game and the fact that it is quite beneficial for the young minds, Global Indian International School (GIIS), Noida commemorated the 2nd Inter-School Chess Championship in collaboration with the Noida Chess Association in the school premises with great exuberance and anticipation. The tables were set and the participants from various schools of Delhi NCR were ready to test their skills and intelligence on an inter school platform.
Over 200 students participated in the inter-school chess extravaganza that was conducted over a span of two days. Gracing the occasion with his astounding presence, Vice Admiral S.K. Jha (Indian Navy) along with Mr. Rajeev Katyal – Country Director, GIIS India & Japan, and Ms. Sunita Jaisingh – Academic Head, GIIS India made the finale even more exciting and worth attending.
Admiral S. K. Jha has received Nau Sena Medal (Gallantry) Award in 1990, Flag Officer Commanding in Chief (1998) Award, and Ati Vashist Seva Medal for distinguished service, apart from many other accolades he has earned during his tenure. Speaking on the occasion he shared few life lessons with our budding chess players. He said – "GIIS Noida has taken such a great step of inviting students across Delhi NCR for this chess championship. Chess is a game that teaches us to think and decide what strategy works in favour of game which is so similar to situations we face in life. One must think and decide before hopping onto any decision."
There were numerous categories for students to participate and showcase their brain skills. Students from various schools performed to best of their capabilities and won accolades for their schools. On 3rd November, the results were announced and the winners were greeted enthusiastically with rounds of applause and cheering by fellow participants, teachers and coaches. Global Indian International School, Noida bagged trophy for the "Maximum number of participation" whereas the Champion School Trophy had three winners viz., DPS Noida (3rd position), Amity School Mayur Vihar (2nd position) and Amity School, Noida (1st position).
Admiral S.K Jha, Mr. Rajeev Katyal, Ms. Sunita Jaisingh and Ms. Vandana Midha congratulated the winners by presenting trophies and medals. Apart from the mentioned trophies, there were sub categories to compete, results of which are as follows:
| | | |
| --- | --- | --- |
| Student's Name | Name of the School | Position |
| | Under - 7 Girls | |
| Hia Garg | DPS Noida | 1st |
| Tashna | Shiv Nadar School, Noida | 2nd |
| Shurbhi | Indirapuram Public School, Crossing Republic | 3rd |
| Samira Nagpal | Bal Bharti Public School, Pusa Road | 4th |
| | Under 7 - Boys | |
| Adarsh Tyagi | Umander Convent School, Ghaziabad | 1st |
| Ishant Singh | Cambridge School, Noida | 2nd |
| Shaurya Sisodia | AIS, Noida | 3rd |
| Aryan Rai | Presidium School, Raj Nagar | 4th |
| | Under 10 Girls | |
| Siya Singh | DPS, Noida | 1st |
| Vedika | SIS, Noida | 2nd |
| Pranika Agarwal | AIS, Mayur Vihar | 3rd |
| Ashwika Hans | AIS, Noida | 4th |
| | Under - 10 Boys | |
| Parv Chopra | AIS, Noida | 1st |
| Nachiket Bora | AIS, Mayur Vihar | 2nd |
| Rishit Singh | AIS, Noida | 3rd |
| Vinayak Jain | RSJMS, Humayun Road | 4th |
| | Under - 13 Girls | |
| Tanvi Gupta | AIS, Noida | 1st |
| Riya Pachaury | GIIS Noida | 2nd |
| Tanushree Kapila | AIS, Mayur Vihar | 3rd |
| Aanuja Singh Chowhan | AIS, Noida | 4th |
| | Under 13 Boys | |
| Pranav Kalra | AIS, Noida | 1st |
| Suhaan Garg | AIS, Noida | 2nd |
| Arul Tripathi | AIS, Mayur Vihar | 3rd |
| Shivam Mahor | AIS, Noida | 4th |
| | Under - 14 Girls | |
| Poornima Gupta | AIS, Noida | 1st |
| Ananya Jaiswal | AIS, Noida | 2nd |
| Vidushi Tankha | AIS, Mayur Vihar | 3rd |
| Alina Ahmad | AIS, Mayur Vihar | 4th |
| | Under - 14 Boys | |
| Amogh Aggarwal | Jaipuria School, Vasundra Ghzb | 1st |
| Aditya Narayan Panda | AIS, Noida | 2nd |
| Jonathan Varghese | AIS, Noida | 3rd |
| Chitraksh Sureka | Jaipuria School, Vasundra Ghzb | 4th |