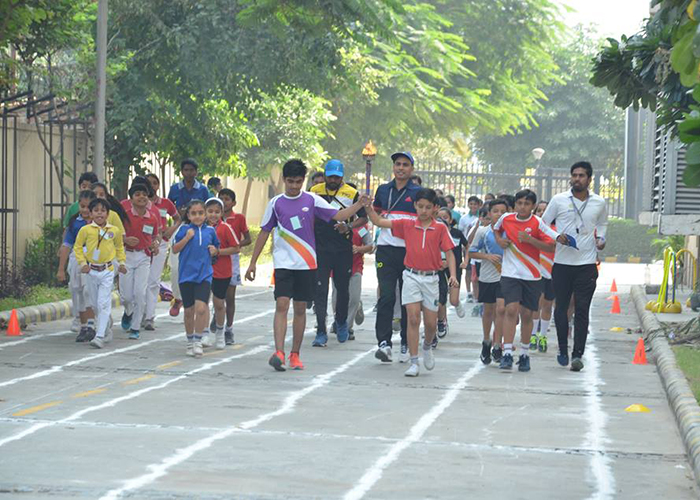 The world is progressing towards war like situations, less often we hear of people talking about peace and making efforts in imbibing them into practice. In situations like these, Peace fiesta is one of its kind of school led event that celebrates Peace together with students participating from other schools as well.
With an aim of bringing different schools together, and develop unity/togetherness among the ideas and thoughts towards world peace, and to mark the 148th birth anniversary of Mahatma Gandhi, Global Indian International School (GIIS), Noida hosted Peace Fiesta, 2017 in its state-of-the-art campus on 7th October, 2017. Several competitions were conducted on the theme with students from 14 schools of Noida actively taking part in the peace marathon conducted.
A carry forward to last year's Peace relay, this time the Peace Fiesta was aimed at bigger and better impact on the youth of our country. More than 150 students from widely known schools of Noida - Bal Bharti Public School Noida, The Manthan School (Sec-78, and Gr. Noida west branches), Indirapuram Public School, The Millenium School, Greater Valley, etc., participated in the marathon of activities conducted in the school vicinity. Hindi recitation, English recitation, Fancy dress competition, hurdle Race, baton race, extempore, and transformation turncoat were the few of the many activities organized.
Gracing the occasion with her vivacious presence, Ms. Richa Annirudh – famous news anchor and host of the news channel IBN7 along with Mr. Rajeev Katyal – Country Head, GIIS India & Japan, added more value to the event. Accompanying Ms. Annirudh were 12 other guests from different walks of life who came to judge the events. Mr. Ravikant Sharma (Former England Cricket Team Coach, Dronacharya Coach), Mr. Satish Chaudhary (Joint Secretary Gautam Budh Nagar, Noida and Astt. Officer Railway Board), Ms. Simmi Srivastava (Founder Director , Kathashala), Dr. Anupama Sethi ( Founder Director, EmpowerKidz), Ms. Kriti B. Sarkar (Founder of Kalakriti foundation) were among the list of honourable judges who provided us with the valuable time and judgments.
Speaking on the occasion Ms. Richa said- "that peace resides in oneself. It is you who can only bring peace to your soul and mind, nobody else can do it for you. " She emphasized on stress levels children of today take and get depressed about. Her words were enough for our students to realize that no matter what happens, mental peace can only be achieved through competing with oneself than with others.
Ms. Richa, being a parent herself requested the teachers to start imbibing in the youth of today, a sense of responsibility towards their actions. She reaffirmed by saying that "Children should be responsible for themselves. Whatever marks, failure or success they get in life, should be their own. She also guided the students to participate with full honesty and integrity, as deceitful ways of winning and achieving will never get them inner satisfaction and peace."
This innovative initiative, the inter-school peace fiesta was organized by GIIS Noida with the hope of spreading the message of peace beyond the walls of the campus. The event came to an end with the prize distribution ceremony where winners of all the events were awarded with gifts and rolls of honor. The most awaited title of the day was the overall winning trophy that was to be won by the school attaining maximum number of marks in all the events participated. GIIS Noida, being the host school decided to step back despite attaining maximum marks, propagating sportsmanship in true means. The Greater Valley School, Gr. Noida was adjudged as the overall winners for the Peace Fiesta 2017, and Indraprastha Global School, Noida was also awarded with a special trophy for their exceptional performances.
Since GIIS Noida runs under the aegis of MGCUV (Mahatma Gandhi Centre of Universal Value), this event was an attempt to familiarize our students with the process of acquiring right kind of moral values that help them obtain a peaceful mind, soul and life.
"Peace is a self-obtained virtue. One must work towards achieving it, in order to become a personality accepted by all, and most importantly by oneself."