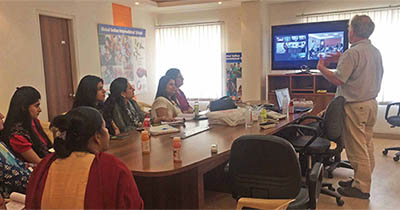 Born of the ancient times, Vedic Maths is the basis of advent Maths available today. Invented in the Gupta period of the ancient Indian history, Vedic Maths was rediscovered in the late 80s of the 19th century by Shri B.K. Tirthaji Maharaj. As per his observations, Vedic Maths is a way of making arithmetic and other relative calculations appear simpler and the process enjoyable, in comparison to algorithms of modern mathematics.
To enlighten the teahers of GIIS India on the benefits and simplicity of using Vedic Maths in teaching, Mr. James Glover along with Ms. Sunita Jaisingh - National Head-Academics, GIIS conducted an interactive e-session on the basic of Vedic Maths basics. The session was hosted by GIIS Noida in which teachers from GIIS campuses of Noida, Ahmedabad, Indore, Bangalore, Chinchwad and Japan took an ardent part.
Mr. James Glover is a renowned author and a teacher of Vedic Mathematics. He is also the chairman of a UK based charity institute for Advancement of Vedic Mathematics that provides online and in person training on Vedic Maths all over the world. Many people across the globe have been a part of this programme, engaged in providing education, research and development of Vedic Maths. He has been teaching for more than 32 years and has also published several books on Vedic Maths for teaching in schools through the publisher Motilal Banarsidas.
Mr. James Glover during his interactive session with all the GIIS teachers, spoke about the importance and usefulness of Vedic Mathematics in teaching children of pre-primary and primary levels. He quoted many relevant examples and instances for calculation of complex numbers can be simplified and achieved in a shorter smaller time frame. For example; he practically showcased how multiplication of two complex numbers can be achieved by cross addition or subtraction of two numbers. He even discussed different ways by which a problem can be solved, and emphasized on the idea of being a distinct solver each time. He also shared his experience of teaching children at a school in London, where each student solved a piece of problem in their own way, and how each one of them applied basics of Vedic Maths to create their own solution to the problem given.
Post discussing examples and guiding teachers on tips and techniques of calculating using vedic mathematics, Mr. Glover discussed how Vedic Maths can sculpt a child's mind in uncountable ways. Speed, flexibility, decision making capabilities, pattern recognition, and a lot more can be achieved if students today start following the principles of Vedic Maths religiously.
At the end of this interactive session, teachers from all the campuses enquired and shared their views on the topic. Mr. Glover was more than happy to resolve queries raised by teachers, explaining in detail the problem's solution and how it is derived. Ms. Sunita Jaisingh concluded the session by thanking Mr. James for such an insightful session with a hope of experiencing more of his sessions at GIIS campuses worldwide.
View Pics