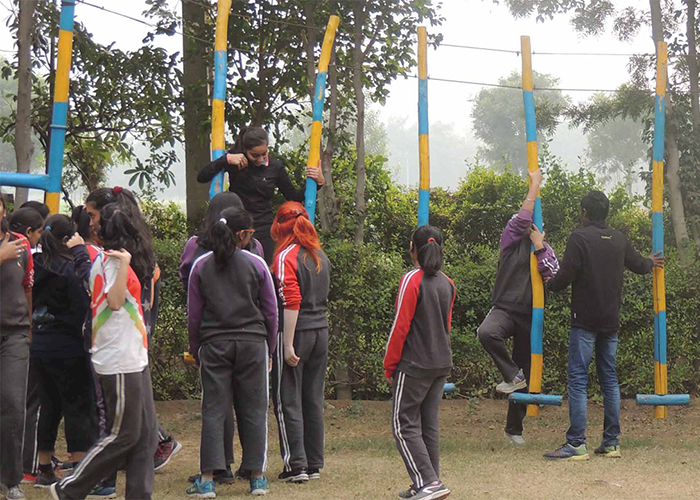 Outdoor learning experience enriches our students to an extent books can't. Apart from classroom learning, school can provide an enriching learning experience to its pupils by organizing outdoor camps and excursions. Keeping in mind the importance of games and sports, a trip to Tikling camp, Gurgaon was organized for grades 3-10 students. It was a day long adventure sport activity for the primary wing of Global Indian International School (GIIS) Noida where students got a chance to experience a real life adventure camp scenarios along with their friends and teachers.
The camp had activities like zip line, commando net, hop scotch, mountain climbing, monkey crawl, double rope bridge, hiking, tug of war, rope ladder climbing, diagonal rope ladder, pottery, etc. with each group of the students headed by the mentor under whom they performed the above mentioned activities. The full camping session had a time table to be followed and involved students following the same properly. Students in their groups had their break time and mid-day meal and after that they again continued with the adventure sport activities.
It was a great learning experience for all our students and teachers as they got a chance to explore the nature and learn things of great personal value. The objective of engaging students in such adventure sport activities was to encourage them to think out-of- the-box, empower themselves with skills that helps them to lead and work in a team, instil a healthy spirit of competition, some life values, some cheer and enthusiasm that go a long way in their life.
Lastly, the skill acquired during these activities motivates students to face any competition in life. It instils confidence and encourages students towards new horizons of learning which no classroom learning can alone provide for.