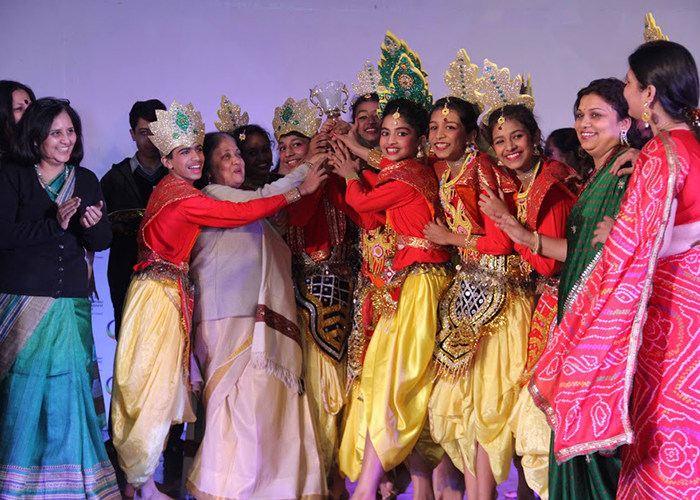 Promoting the language of dance and soulful music, Global Indian International School hosted its 3rd Annual Inter-GIIS Competition of performing Arts on 1 February, 2017 at its Noida campus with much panache. Over 80 students from GIIS campuses of Ahmedabad, Bangalore Chinchwad, Indore, Surat and Noida campuses showcased their talents in singing and dancing.
The inter-GIIS competitions help students belonging to different geographies collaborate, participate, interact and compete with each other on a common platform to hone their talents, enhance their personalities and become confident individuals.
GIIS Jhankaar 2017 was conceptualised on depiction of the ancient Indian epic, 'Ramayana' through traditional dance forms of South-East Asian countries that idolise Ram and Sita. Excerpts from the famous Ramayana ballet was presented in Indonesian, Thai and Sri Lankan dance forms. Authenticity of costume, dance style, rhythm, synchronization, timing, music and presentation were a few rubrics considered by the judges while choosing the winning team.
GIIS Idol 2017 was a singing competition par excellence themed on 'Sufiana Kalam' inspired by the devotional music of Sufi dervishes and the great works of Sufi poets like Bulleh Shah, Amir Khusrow, Rumi, Hafiz and others. The parameters for judging were based on range, tone, quality, voice modulation and memorizing of lyrics.
The performance of GIIS Jhankaar was judged by an eminent panel of renowned dancers like Pandit Pulkit Mishra - Bharat Gaurav and Kala Shiromani Awardee, Ms. Ayana Mukherjee - Kuchipudi Exponent and and Ms. Akansha Chandra Goel Giri - disciple of Guru Pandit Birju Maharaj ji and the GIIS Idol was judged by renowned singers like Ms. Geeta Puri, Ms. Meena Galoria and Sh. Ram Chandra Pandey. They were most impressed by the mellifluous performances and after much deliberation the winners were chosen.
Mr. Rajeev Katyal - Country Director GIIS India congratulated the teams for their efforts and praised the music and dance teachers for ensuring quality performance. Present on the occasion were Ms. Sunita Jaisingh, National Academic Head, Ms. Vaishali Borde, National Head for Co-scholastics and Ms. Nandita Dasgupta- Principal GIIS Noida. Ms. Borde, as the conceptualiser of the inter-GIIS event said, "I am glad to be a part of this spectacular show and it gives me immense pleasure to witness the way the competitors have developed over the years and are comparable to professional artists, thereby pushing the benchmark to new heights."
The day ended with a prize-distribution ceremony and judges awarded trophies to students for solo singing as well as group-dance performances.
JHANKAAR 2017

Name of Campus

Results

Dance Style

GIIS Chinchwad

Winning Team

Sri Lankan

GIIS Ahmedabad

1st Runners up

Indonesian

GIIS Bangalore

2nd Runners up

Sri Lankan

GIIS Chinchwad

Rolling Trophy
GIIS IDOL 2017

Name of Campus

Name of Winner

Results

GIIS Chinchwad

Prathana Wajapey

1st

GIIS Noida

Divya Tiwari

1st Runners up

GIIS Ahmedabad

Mahalakshmi L

2nd Runners up (tie)

GIIS Chinchwad

Tiya Dhusia

2nd Runners up (tie)

Team GIIS Noida

Rolling Trophy