GIIS students make a mark at the 20th Asia Pacific Quality Conference
The prestigious Walter L. Hurd Executive Medal for 2014 was awarded to Mr Atul Temurnikar, Chairman and Co-Founder, GSF and Mr B G Shenoy, Director, GCEE
Students of GIIS East Coast Campus and GIIS Kuala Lumpur Campus made Quality Circle Presentations that received great response from industry professionals
On November 24, 2014, Mr Atul Temurnikar, Chairman and Co-Founder, Global Schools Foundation and Mr B G Shenoy, Director, Global Centre for Education Excellence were awarded the prestigious Walter L. Hurd Executive Medal for 2014 the from the Walter L. Hurd Foundation and the Asia Pacific Quality Organization (APQO). The Annual Productivity & Innovation Conference and Exposition (APIC) was held in conjunction with 20th Asia Pacific Quality Conference (APQC) in Kuala Lumpur, Malaysia. The award function honoured companies and industry leaders who have distinguished themselves through Excellence for their achievements.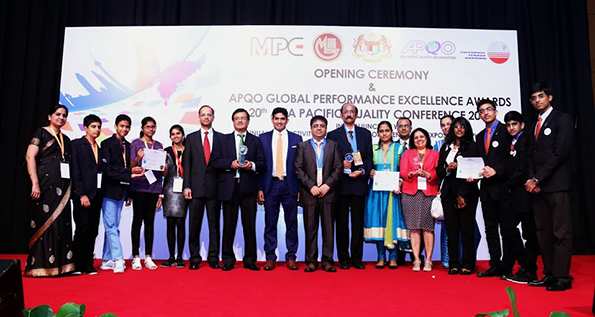 Students of GIIS East Coast Campus and GIIS Kuala Lumpur Campus with the GIIS management at the
20th Asia Pacific Quality Conference
Quality Circles (QC) at GIIS gain global recognition
Implemented in 2008, Quality Circles at the Global Indian International School allow students to tackle real world issues while shaping their team-building and communication skills. The Quality Circles at GIIS extends to teachers as well, who come together to identify issues and challenges.
Two such Quality Circle teams from GIIS East Coast Campus and GIIS Kuala Lumpur Campus, participated in the Team Excellence Competition on November 25, 2014 at the 20th Asia Pacific Quality Convention.
All about quality... Inspired Warriors (from left)
Rujuta, Pranit, Varun and Niveditha with APQC
chairman Charles Aubrey
GIIS East Coast Campus team, the Inspired Warriors comprised Varun Shah, Rujuta Athalye, Class 7 and Niveditha Nerella, Pranit Dutta, Class 8 who presented the Quality Circle @aps@An Enemy called Average. The youngest of all the participants in the convention, Team Inspired Warriors competed with 58 other teams consisting mainly of professionals from industries. Inspired by the book - @aps@An Enemy called Average@aps@, written by the famous author John Mason and @aps@Success is not an Accident@aps@, by Tommy Newberry - the QC aimed to motivate students to rise above average performance and strive for success. The team identified students@aps@ apathy towards average performance as their problem and tried to find solutions to help overcome it. They used tools like the Ishikawa diagram or the cause-and-effect diagram to find the root cause, set targets and work on action plans to achieve the goal. The results were encouraging and were validated by industry experts namely - Mr Rajiv Vasudeva, Country Director, GIIS Singapore, Mr B G Shenoy Director, Global Centre for Education Excellence and Mr George Madhavan, Director of the public utilities board of Singapore (PUB). The presentation was widely appreciated by the panel of judges, audience and other contesting teams. The team secured a maximum of 3 stars for their QC and was placed among the top 15 teams.
Team Inspired Warriors were declared winners of Quality Circle Competition, (category 2) by assessors from Singapore Productivity Association, during the Real World Challenges Convention 2014, held at GIIS East Coast Campus.
"Importance of hard work, team work and a commitment towards excellence were the key take away from our trip to Malaysia. We would like to thank Ms Radha Ganesh and our Principal, Ms Melissa Maria, Ms Shoba Silvia, Mr BG Shenoy and Mr Rajiv Vasudeva for giving us the glimpse of the world of excellence" - Team Inspired Warriors.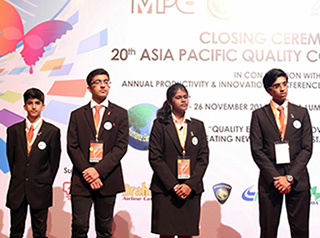 Team Challengers - Madhan Venkatesh, Shayan
Rizvi, Siddhant Bhatia, Bhavani Ponnurangam,
Ranit, Varun
GIIS Kuala Lumpur team Challengers participated in theage group 13-15 years. The QC team of Madhan Venkatesh, Shayan Rizvi, Siddhant Bhatia, Bhavani Ponnurangam, presented on the theme 'Challenges in facing the real world'. The QC aimed to make every child understand that they have the potential in them to conquer the world. The power within each child needs to be tapped and the young minds set on fire to think big and triumph in life. The core values of honesty integrity, team work, leadership skills and the right attitude make an individual outshine others. The extensive research and action plans formulated by the team, helped many students overcome their inhibitions and gain self-confidence, thus improving academics as well as overall attitude. The Methodologies and Tools used by the team include:
Deming cycle / Plan Do Check Act (PDCA) Cycle
Brainstorming - Online brainstorming & Step ladder Technique
Nominal Group Technique
Histograms
Check sheets
Surveys
Graphs & Charts
Presentations
Talks/ Lectures
Group discussions
'The Team Excellence' presentation by Challengers received strong appreciation from the members present at the convention.
"The unparalleled exposure we received through the interactive sessions and during our presentation is invaluable. We thank our GIIS teachers, Principal and parents for giving us this great learning opportunity. It has been an amazing experience" - Team Challengers.
Validation from IMC Assessors:
Fr. (Dr.) Vincent J Braganza, Mr Biswaranjan Sabat and Mr Prasanna R Kailaje on December 4, 2014 at Singapore for the Quality Circle - An Enemy Called Average by Inspired Warriors, GIIS East Coast Campus, Singapore.
I was dumb struck by the confidence, knowledge, and attention to details. It was evident that the team members had genuine desire to help people around them to fight the enemy. The sparkle in the eyes of the team leaders of inspired warriors is the reflection of the involvement. All the very best. Mr Prasanna R Kailaje
I saw a diagram. I learnt during my college days but I was amazed to see youngsters in class 6 and 8 thorough with these quality terms. Big wow. Great work. Continue and you would be leaders of tomorrow. Best wishes. Mr Biswaranjan Sabat
Am deeply impressed by the capabilities and confidence each of you demonstrated. Reach for the heights, don@aps@t settle for @aps@average.@aps@ God Bless you from Fr. (Dr.) Vincent J Braganza
Great Learners - Habit of acknowledgements is very good. Mr Prasanna R Kailaje
Good insights and great learnings. Mr Biswaranjan Sabat
Validation from Mr. George Madhavan, Director, 3P Network Department, Public Utility Board, Govt of Singapore and Member SQA Management Committee (Mar 2014 - Mar 2016) on 21st November 2014 at Singapore for the Quality Circle - An Enemy Called Average by Inspired Warriors, GIIS East Coast Campus, Singapore
Acknowledgements
I am extremely impressed by the quality of the project and high standard of analysis to develop solutions by a very young team. Truly inspiring. Mr George Madhavan
Related News:
No Comments