GIIS student Ramapriyan Srivatsan wins 'NRI of the Year 2015 – Asia Pacific' award for academics
A Class 10 student from Global Indian International School (GIIS), East Coast Campus, Ramapriyan Srivatsan won the NRI of the Year 2015 - Asia Pacific Award for achievement in academics at the third edition of the awards held in Mumbai on 11 April 2016. This year's illustrious list of winners included Bollywood actor, Ms Aishwarya Rai Bachchan, and tennis star Ms Sania Mirza among others.
Veteran actors Mr Kabir Bedi and Ms Mandira Bedi hosted the event, where Minister of State with Independent Charge for Power, Coal, New and Renewable Energy in the Government of India, Mr Piyush Goyal, was present with other dignitaries. During the event, Ramapriyan shared the stage with eminent personalities like Ms Mirza and other winners.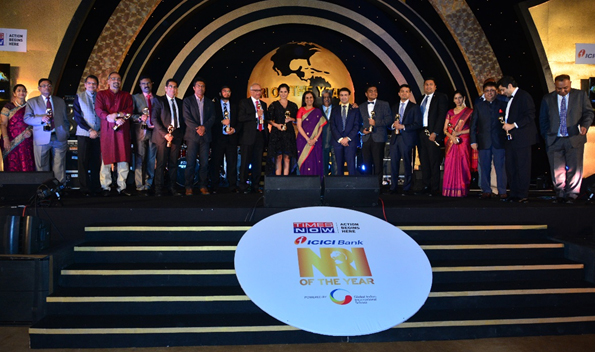 Indeed a moment of glory! All the winners share the stage
Mr Atul Temurnikar, Executive Chairman and CEO, Global Schools Foundation said, "I extend my heartiest congratulations to all the winners of this year@aps@s NRI of the Year Awards. While some winners have come a long way in their journey, such as Mr Dhruv Saxena and Mr Virendra Chopra, there are some who have embarked on their journey at a young age of 14 years, such as Ramapriyan Srivatsan - a student of GIIS from Singapore."
Further, he added, "This is a true reflection of the strength, capability and dynamism of the Indian Diaspora. India is the world@aps@s third largest exporter of skilled manpower, and the Indian Diaspora - comprising NRIs and PIOs - have been a source of great strength to over 140 countries where they are settled."
GIIS has partnered with Times Now as the co-founder of the @aps@NRI of the Year@aps@ Awards to recognise and celebrate the outstanding contributions of the Diaspora across the globe. NRI of the Year, this year was also open to any Non Resident Indian (NRI), Overseas Citizen of India (OCI) and Person of Indian origin (PIO) who resides in USA, Canada, UK, Middle East, Singapore, Australia and New Zealand.
This year@aps@s recipient of the @aps@Global Indian of the Year@aps@, Ms Aishwarya Rai Bachchan dedicated the award to her daughter Aaradhya. "I was very passionate about making it more than a perceived beauty pageant. For me, I all along believed that it was the opportunity to represent an Indian woman on the international platform. I believe that from then until today, in 2016, it continues," said Aishwarya.
The gala event witnessed an energetic performance by Mr Lesle Lewis, an ace singer and music composer. This is also the first event attended by the newly crowned Femina Miss India 2016 - Priyadarshini Chatterjee, Sushruthi Krishna - 1st Runner Up and Pankhuri Gidwani - 2nd Runner Up. The event also witnessed last year@aps@s runner-up Sushrii Shreya Mishra - Miss United Continent 2015, Varitka Singh -Miss Grand International India 2015 and Aafren Vaaz - Miss Supranational Asia and Oceania 2015.
The Times Now ICICI Bank NRI of the Year awards was awarded to 17 individuals under seven different categories - Entrepreneur, Professional, Academics, Arts & Culture, Philanthropy, Special Jury Award, Global Indian of the Year and India@aps@s Global Icon Award.
The jury for NRI of the Year 2016 comprised eminent leaders with the likes of Suhel Seth, Partha Sinha, Anurag Batra, P R Chakravarty and Sudhir Dhar. The NRI of the Year awards received an overwhelming 25,000 registrations online and the multiple Jury rounds have ensured that the winners are of high quality. Among the winners this year are accomplished Neurologists, Oncologists, CEOs of global businesses and a former white house intern, and accomplished overseas Indians.
List of Winners 2015

Categories
Name of the Winner
Country
India@aps@s Global Icon
Ms Sania Mirza
Global
Special Jury Award
Mr Nikesh Arora
Global
Global Indian of the Year
Ms Aishwarya Rai Bachchan
Global
Academics
Mr Ramapriyan Srivatsan
Singapore
Prof Ahmad Umar
Saudi Arabia
Prof Dr Sanjay Gandhi
United Kingdom
Mr Varun Gupta
United States
Professional
Mr Amit Shah
Singapore
Mr Mohit Malhotra
United Arab Emirates
Mr Josvaraja John Christopher
United Kingdom
Mr Riju Agarwal
United States
Philanthropy
Mr Jabir Puthiya
Oman
Art & Culture
Ms Sonia Nair
Australia
Entrepreneur
Mr Dhruv Saxena
Australia
Mr Joji Mathew
United Arab Emirates
Mr Saravana Kumar
United Kingdom
Mr Virendra Chopra
United States
Mr Ramapriyan, a (IGCSE) Class 10 student from GIIS East Coast Campus in Singapore is the recipient of various awards in the academic field of maths, science and literature.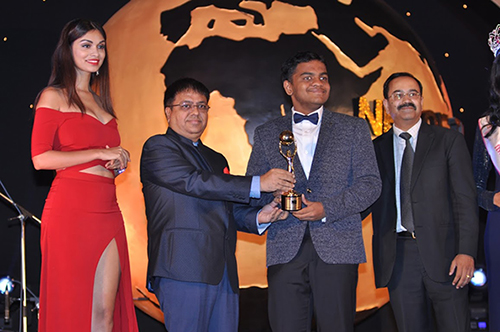 Proud moment for Ramapriyan, as he receives award from Mr Atul Temurnikar,
Executive Chairman and CEO of Global Schools Foundation
He is a recipient of the gold award in the GIIS maths challenge in 2012
He has also received the outstanding performance award in @aps@My Math Olympics@aps@, held by Singapore-IIT alumni
He is the recipient of the Justice CS Dharmadhikari award for literary endeavours, as well as the Global School President@aps@s award for All Round Excellence and the APJ Abdul Kalam award for academic proficiency
Apart from academics he has excelled in various extra-curricular activities - He was voted the best speaker for one of the famous Model United Nations (MUN) events, The Hague International Model United Nations Singapore (THIMUN Singapore), as well as the Singapore International Schools Debate League (SISDL)
In the words of a winner - Ramapriyan Srivatsan
It was with a lot of hope and anticipation that I applied for this year's NRI of the Year Award.
Scanning a multitude of certificates and scouring through old pictures, I managed to compile my accolades into a crisp yet impactful chronology. With bated breath and a confident mind, I finally clicked the beckoning 'send' button and hoping ambitiously, that I would emerge victorious in my quest for this prestigious award.
It was a Saturday evening when suddenly, my mom yelped with joy. Amidst leaps and screams of jubilance, my mom hugged me tightly, clueless to the good news to come. I was left stunned when I realised that I had won the award, barely able to warble any syllables.
Once the news got around, congratulations started pouring in from my friends and family members. Amidst the numerous perks of the flamboyant Grand Hyatt hotel, Mumbai and the diverse pleasantries extended to my family and myself by the splendorous Times Group, it was indeed effortless to forget about the award itself! However, the butterflies and nerves returned once again as I awaited my turn to receive the award, alongside the other winners.
Then, all of a sudden, I heard the boom of the voice of Kabir Bedi, the host for the awards, through the speakers, announcing my name as the winner of the NRI of the Year Award for academics in the Asia-Pacific region.
The moment was electric, as applause rang all around the room. Lights, of a cornucopia of colours illuminated me on stage as I received the award. It took me a few moments to realise that all the cameras were on me, and that this was to be telecasted on television. With the fear of an embarrassing stutter, stammer or trip hanging heavy on my heart, I boisterously walked up and gave a speech of jubilance and victory, to rapturous applause. The experience was indeed an eye opening as well, as I received the opportunity to interact with people from all walks of life: entrepreneurs, professors, dancers and philanthropists as well. Meeting people who have made India proud by excelling in their professions and business endeavours was indeed inspirational. For instance, Mr Dhruv Saxena from Australia built his businesses from scratch, turning their passions into multimillion-dollar enterprises that are at the forefront of their respective markets, today. Mr Jabbar, from Oman was indeed an icon, a man who has fought for the rights of thousands of migrants in his country, providing them with the light of hope, the light of justice, just when they had given up hope themselves.
Amongst other dignitaries who spearhead India today, on the global stage and back home, I had the pleasure of sharing the stage with Ms Aishwarya Rai, tennis ace Ms Sania Mirza, Ms Chanda Kochhar, CEO of ICICI bank, Mr Piyush Goyal, Minister of State with Independent Charge for Power, Coal, New and Renewable Energy in the Government of India and Mr Atul Temurnikar, Executive Chairman and CEO of Global Schools Foundation. The experience was a truly humbling, overpowering and overwhelming one. With my head held high, I returned home to Singapore, yet knowing that there was still a long road ahead of me in the pursuit of my goals.
---

View more images: https://goo.gl/ho6SY6
Related links -
Previous seasons of NRI of the Year Award
No Comments