GIIS Malaysia wins prestigious international APQO award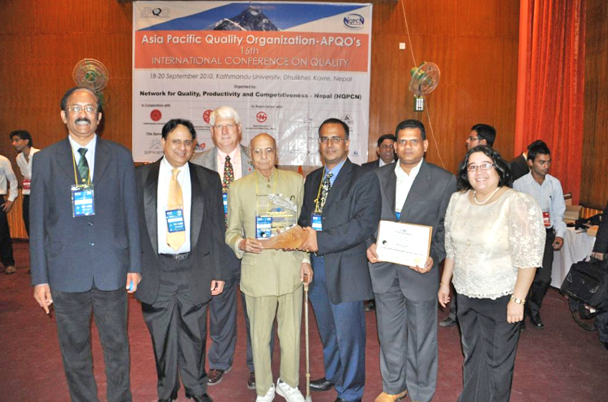 Award winning GIIS team (L to R) - Mr BG Shenoy, Director, GCEE, Mr Shan Ruprai, President, APQO, Mr Charles Aubrey, President, IAPQA, Justice CS Dharmadhikari, Vice President, GIF, Mr Manoj Nair, Director, GIIS Malaysia, Mr Ashok Raj, Vice Principal, GIIS KL and Ms Victoria M. Vallestero, APQO Secretary General
at the IAPQA ceremony
GIIS KL has rewritten the success 'mantra' in gold by winning the International Asia Pacific Quality Organisation (IAPQO)'s Best in Class Award for Education. GIIS KL becomes the first school from Malaysia to win the IAPQA.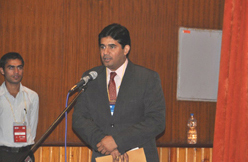 Mr Kaustubh Bodhankar, Deputy CEO,
GIIS speaking at the award ceremony
Earlier this year, GIIS KL won the Malaysia Productivity Corporations (MPC) Prime Minister's Award for Industry Excellence 2009, making GIIS the only international school to win the prestigious Prime Minister's Award for Industry Excellence.
The International APQO awards were given at a highly prestigious function during APQO's 16th International Conference on Quality 2010 at Kathmandu, Nepal from 18th–20th September. The IAPQA for GIIS Malaysia was received by Justice CS Dharmadhikari, Vice President, GIF, Mr Kaustubh Bodhankar, Deputy CEO, GIIS, Mr Manoj Nair, Director, GIIS Malaysia, Mr B G Shenoy, Director, GCEE and Mr Ashok Raj, Vice Principal, GIIS KL.
Eminent personalities at the event included Prof. H James Harrington, Chairman, APQO whose name is synonymous with quality movement and Mr Shan Ruprai, President, APQO.
GIIS KL has established strong credentials for education excellence and has worked towards creating high standards in academics at GIIS KL. Students at GIIS KL are motivated to participate effectively at various levels leading to improvement in their learning outcomes. The tremendous opportunities presented by such student engagements have been well appreciated. Action Research Consulting (projects led and completed by students, with teacher as a facilitator) and activity based learning; both important components of GIISs learning pedagogy have also received special recognition.
Mr Manoj Nair, Director, GIIS Malaysia treasures the win saying, "GIIS has become the only school in Malaysia to have won this prestigious award. We have become an exclusive school with impressive credentials. We want to be the first choice for a school for parents. This is an award for ethos practiced and inculcated by GIIS. As a young school, it is an envious achievement by any standard."
For Mr B G Shenoy, Director, GCEE, it is a dream come true for his team. "Winning the MPC's QMEA (Quality management Excellence Award) with an unimaginable score of 800-850 qualified us to apply for the IAPQA. It is the world's highest recognised award for excellence in education. APQO award has taken us to the top of one mountain but since we believe that excellence is a never ending journey, though we feel proud, we will work as if we are at the bottom of the higher mountain."

The ceremony at Kathmandu University was a befitting place for the APQO award presentation. It was a ceremony filled with excitement and pride at having achieved a remarkable feat.

No Comments