GIIS KL wins Malaysia Productivity Corporation's Prime Minister's Award for Industry Excellence 2009
| | |
| --- | --- |
| | |
| (L to R) Mr Ashok Raj, Vice Principal, GIIS KL, Mr Kaustubh Bodhankar, Dy. CEO, GIF, Mr B.G Shenoy, Dir, GCEE , Mr Atul Temurnikar, Chairman, GIF & GIISKL, YB. Dato Mukhriz Mahathir, Dy Minister International Trade & Industry, Ms Jacinta George, Teacher, GIIS KL, Mr Manoj Nair, Country Director, GIIS KL and Mr Kapil Kumar, Teacher, GIIS KL | (L to R) Y. Bhg Tan Sri Dato Azman Hashim, Chairman and MPC, Y.B Dato Mustaffa Mohamed, Minister of International Trade & Industry present the award to Mr Atul Temurnikar, Chairman, GIF & GIIS KL |
GIIS Kuala Lumpur has triumph written all over its new scorecard. GIIS KL has won the Malaysia Productivity Corporations (MPC) Prime Minster's Award for Industry Excellence 2009.
The prestigious ceremony at the Kuala Lumpur Convention Centre, Kuala Lumpur, Malaysia, on 25th March, was attended by Mr Atul Temurnikar, Chairman, GIF, Mr Kaustubh Bodhankar, Deputy CEO, GIF, Mr B G Shenoy, Director, Global Centre for Education Excellence (GCEE), Mr Manoj Nair, Country Director, GIIS Malaysia, Mr Ashok Raj, Vice Principal, GIIS KL and GIIS KL teachers Ms Jacinta George and Mr Kapil Kumar. The award was presented by Y. Bhg Tan Sri Dato Azman Hashim, Chairman, MPC and Y.B Dato Mustaffa Mohamed, Minister of International Trade & Industry to Mr Atul Temurnikar, Chairman, GIF & GIIS KL.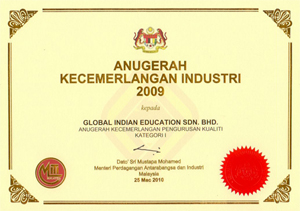 What makes the accolade outstanding is the fact that GIIS is the only international school to win the prestigious Prime Minister's Award for Industry Excellence.
The MPC Industry Excellence Awards are given to practitioners of various industries who have achieved the highest level of performance and excellence in their given field by the Ministry of International Trade & Industry, Government of Malaysia. Out of 175 companies, which participated for the awards in various categories, only 24 were selected as winners. Winning the MPC Industry Excellence Award marks a major milestone for GIIS KL. It has achieved a level of recognition and excellence rarely seen in the education industry.
"We are very honoured'' said Mr Atul Temurnikar, Chairman GIF. "GIIS Malaysia's win reflects the outstanding accomplishment and performance of our school. We are proud to be one of only two educational institutions to win this prestigious award this year."
The MPC team was highly impressed with GIIS's comprehensive student Academic Performance Management system, where the incremental student value-add is monitored and tracked very closely semester by semester. Another notable feature is the sharing of best practices through GIIS Leadership summits, across GIIS schools, which has helped GIIS KL to implement successful initiatives similar to GIIS Singapore schools.
At GIIS KL, students are productively engaged at various levels leading to improvement in their learning outcomes. The tremendous opportunities presented by such student engagements were among the key points appreciated by the MPC team. Action Research Consulting (projects led and completed by students, with teacher as a facilitator) and activity based learning, both important components of GIISs learning pedagogy, were specially acknowledged.
Mr Manoj Nair, Country Director, GIIS Malaysia, is thrilled with the win. He feels that the award validates the constant improvement in its education and emphasizes the best service provided by GIIS KL. There is no denying that winning this award will make GIIS KL a premier international school not just in Malaysia, but in Asia.
"Last 3 years of hard work by the entire team of GIIS culminated in wining this award. I am elated and humbled by this recognition and the credit goes to each and every person of the GIIS family, past and present. The good work continues with the gear shifted to excellence!" adds Mr Nair.
Mr B G Shenoy, Director, Global Centre for Education Excellence (GCEE), who along with the GCEE team, has done pioneering work on the excellence model for the multiple award winning GIIS Singapore schools, says, "The QMEA (Quality Management Excellence Award) is like a dream come true. In one year, the team was able to adopt initiatives, which strengthened academic process outcomes. Results and Trend Analyses conducted by the school were instrumental in convincing the MPC regarding the TQM (Total Quality Management) implementation at GIIS KL. GIIS KL is on a path of quality academic progress to benefit all stakeholders, especially the students."
Winning the award is a feat, brilliantly executed, and it is a strong indicator of the commitment by GIIS to widen its radius and set sights on higher echelons as the best education provider in Asia and beyond.
GIIS KL milestones:
Setting up a brand new building and state of the art facilities confirming to international standards. The campus is now ready to accept admissions from Classes K 1 to 12.
The first full fledged international school to have the CBSE curriculum in Malaysia.
In 2009, the campus achieved 100% result in its first CBSE Class 10 Board exams.
Bahasa Melayu was introduced into the CBSE for the 1st time, for students of GIIS Malaysia and the students did the school proud by scoring well in this subject, in 2008. The structure and curriculum for Bahasa Melayu were designed by GIIS KL.
Runners up in interschool state level cricket championship in 2009.
Winners of Under 12 category in Chess - Merdeka Open Rapid Championship - in various categories.
Initiation of Pro champs sports programme to develop teams in the 5 core sports- cricket, football, table tennis, volleyball and basketball by trained sports coaches.

Link for images:
http://picasaweb.google.com/GIISHQ/MalaysiaPrimeMinisterSAwardForExcellence
MPCQualityManagementExcellenceAward#
No Comments