GIIS Archery Academy launched at GIIS Surat Campus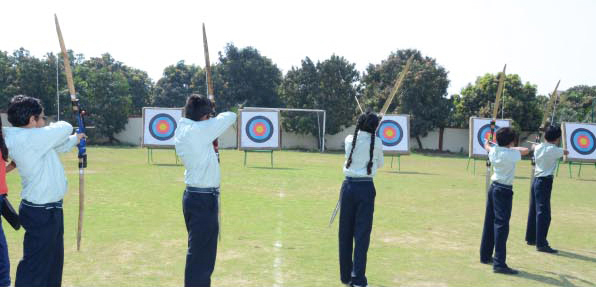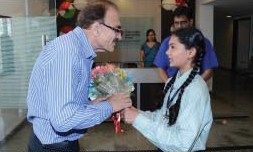 Student of GIIS Surat Campus welcoming
Mr Nilam Mankad, Principal, Mahatma
Gandhi Global Indian Eklavya School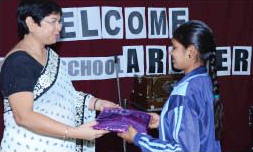 Ms. Pushpy Dutt, Principal, GIIS
Surat Campus, felicitating a student Mahatma
Gandhi Global Indian Eklavya School
The first Archery Academy of GIIS was launched at Surat with latest equipments and a range of best quality. Reputed coaches will be training the future archers of GIIS India. The academy marked its first day with a demonstration of exceptional archery skills by our students from Mahatma Gandhi Global Indian Eklavya School, which is a joint initiative of Global Schools Foundation and Government of Gujarat. This school at Tilakwada is fully funded by the state an central government and is a residential school for tribal children.
The academy was inaugurated by Mr Nilam Mankad, Principal, Mahatma Gandhi Global Indian Eklavya School. The girl archers who are winners of national and state level championship marked the opening of the range by hitting the bulls eye. They were felicitated for their achievement by Ms Pushpy Dutt, Principal, GIIS Surat Campus. The students of GIIS Surat Campus welcomed the archers with open arms.
Their expertise impressed the audience and students of GIIS Surat were full of admiration for the ace archers. Mr Mankad said,"I am honoured to be a part of the Archery Academy and I will always be there for guiding the academy in whatever way I can. Our students of Mahatma Gandhi Global Indian Eklavya School are happy for the recognition given to them. It is a moment of pride for all of us present here. This is the true essence of global education."
Ms Pushpy Dutt said, "We are dedicated in giving children a holistic growth that is not only academic but beyond. The Archery Academy is not only one additional sport facility for our children but the interaction with the less privileged children of our Mahatma Gandhi Global Indian Eklavya School who are achievers in their own right is a great motivator for them. The launch had a humbling effect on our students of GIIS Surat that will mould their personality and imbibe in them the true spirit of sportsmanship."

Beautiful melody by GIIS Choir for their
archer friends

The audience enjoy the soulful
performance
The state and national winners in archery mark the
opening of the launch

GIIS students learning
to aim the target
No Comments