Chandu Borde Cricket Academy launched at GIIS Surat Campus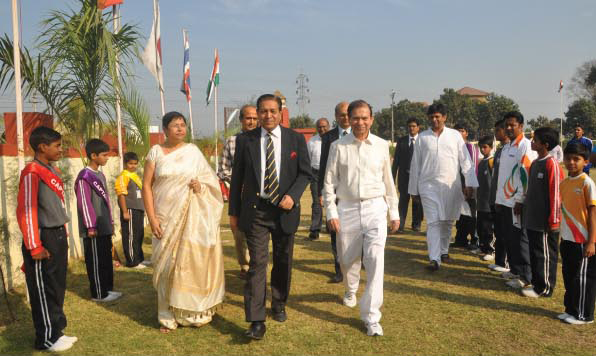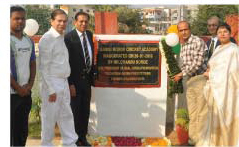 26th January 2013,
GIIS Surat Campus announced the launch of Chandu Borde Cricket Academy (CBCA) at its Surat campus on the Republic Day. The academy was launched by Mr Chandu Borde, Vice-President GSF and Ex-Captain Indian Cricket Team, Former Chairman, Selection Committee BCCI.
CBCA has customised cricket pitches for intense practise under the guidance of professional coaches. The progress of children being trained at the CBCA will be monitored by Mr Borde himself, who will make periodic visits to mentor and guide the team to become one of the leading cricket teams in the future.
GIIS students marched on the grounds and flag hoisting ceremony was conducted followed by a cultural programme dedicated to the Republic Day.

Republic Day Celebration by GIIS Surat
Present on this occasion was Mr Pankaj Kapadia, Chairman Surat District Cricket Association as Chief Guest. He felt that the presence of people like Mr Borde and launch of CBCA will not only be of great value for GIIS but also for Surat. He thanked GIIS for this initiative.
Mr Chandu Borde said to the enthusiastic parents, "GIIS is making a lot of effort in shaping children to become all-round personalities who can perform well in any career or field they choose. The CBCA is going to be an integral part of childrens growth. I will always be available for these children in whatever way I can. Education builds technical competencies, whereas sports develop a spirit of sportsmanship which teaches the child to accept both winning and losing."
Mr Rajeev Katyal, Country Director, who had pioneered the setting up of CBCA across campuses in India expressed, "It is an honour to be a part of this academy. We need more initiatives by schools to create great cricketers for the country. We are dedicated in giving children a holistic growth that is not only academy based but beyond."
"We are extremely fortunate to have Mr Borde, a stalwart in cricket as our mentor. Our school will excel in cricket in the coming years. It is a matter of pride for me in getting the opportunity to set up CBCA under his guidance." Spoke Ms Pushpy Dutt, Principal GIIS Surat.
Mr. Borde being welcomed by the Head
Boy & Head Girl of GIIS Surat

A stroke from the Cricket Legend himself
to mark the opening of the pitch

Mr. Borde inaugurating the pitch


Ms. Pushpy Dutt, Mr. Chandu Borde,
Mr. Pankaj Kapadia, Mr. Rajeev Katyal
addressing the audience



GIIS Student
Interacts with
Mr. Borde


Mr. Borde shared
his experience with an
awe-struck audience

No Comments