Students at GIIS East Coast campus relive an important chapter of Indian history

On October 22, 2012 a delegation of nearly 10 members including Dr D N Bose, Mr Chandra Bose, the grandnephew of Netaji, Mr V P Saini, President of Netaji Subhas Kranti Manch, Capt. Girish Kothari former Indian National Army (INA) member and family members of prominent INA leaders - Ms Purnima Dhillon, daughter-in-law of legendary Red Fort trial hero Colonel G S Dhillon and Mr A Prabhakar Das, nephew of Mr A Yellapa, the founder of the Azad Hind Bank - visited GIIS East Coast Campus. The programme was organized under the banner of Netaji Subhas Kranti Manch, an organization based in India which is committed to the ideals of the legendary Indian nationalist Netaji Subhas Chandra Bose. The delegation aimed to recall the sacrifices of the INA and express their gratitude to the people and the countries which hosted and supported Netaji during the most decisive period of Indias freedom struggle.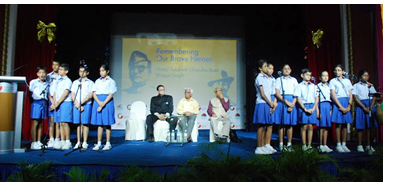 The visitors were welcomed by Ms Madhu Khanna, Principal, GIIS East Coast Campus and Ms Kiran Garga, GIIS East Coast Campus Co-ordinator. The Indian flag was hoisted on this occasion and the students of Class 6 along with their class teachers waved flags of India and Singapore to welcome the guests.
Thereafter the students enthusiastically received the guests to the auditorium and the event commenced with a detailed presentation by students that outlined the role played by Netaji Subhas Chandra Bose in Indias freedom struggle. Another presentation hailed the fearless nationalistic spirit of Shaheed Bhagat Singh who sacrificed his life for the sake of his country and the cause of Indian independence movement.
The school choir sang songs from the Indian independence movement; others recited poems and speeches in honour of the heroes.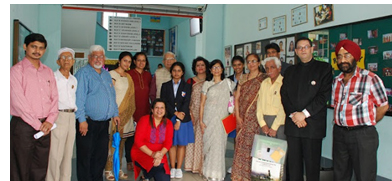 Next, the guests were invited on to the stage. Mr V P Saini, Dr D N Bose and Mr Chandra Bose addressed the students and spoke about Netajis ideals and his life.
The delegate members expressed their appreciation to the school and Principal Ms Madhu Khanna for the opportunity to honour the memories of Netaji Subhas Chandra Bose. They also thanked Ms. Geeta Puri, GIIS East Coast Campus -IGCSE Coordinator, for having organized the event.
Some students thereafter got the opportunity to interact with the guests in the conference room, wherein they took the liberty to ask them various questions concerning the lives and achievements of the two great Heroes of their times.
Link to view photos of the event:



https://picasaweb.google.com/117329405703071183736/October22GuestVisit#
No Comments