Inauguration of Chandu Borde Global Cricket Academy at GIIS Whitefield, Bangalore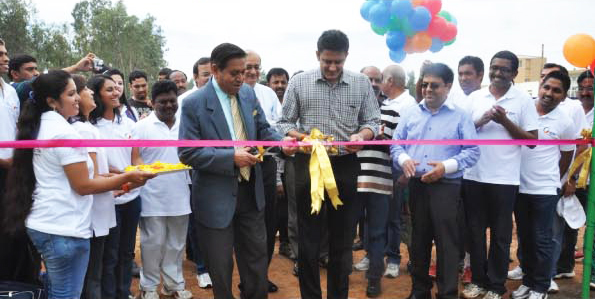 Pitch inauguration in the presence of Honorary Cricketer Anil Kumble and Legendary Cricketer Chandu Borde and Mr. Atul Temurnikar, Chairman GSF.

Mr. Chandu Borde and Mr. Anil Kumble being
felicitated by Mr. Ramesh Mudgal, Principal
GIIS Bangalore in presence of Mr. Rajeev
Katyal, Country Director GIIS India
31st August, 2013 Bangalore : Global Indian International School (GIIS) celebrated the inauguration of Chandu Borde Global Cricket Academy (CBGCA) at its Whitefield campus by organizing a cricket match. The academy is mentored by Mr. Chandu Borde, Vice-President and Co-Founder, Global Schools Foundation.
Mr. Borde is a renowned cricketer. He was the ex-captain of Indian National Cricket team. Mr. Borde has been the Chairman of the Selection Committee of BCCI for two terms. In July 2007, he was appointed as the Manager of the Indian National Team. He has received various awards including Arjuna award, Maharashtra Bhushan, Padma Shri and Padma Bhushan.
Mr. Anil Kumble was the Chief Guest. He is a former international cricketer and Ex-Captain of the Indian Cricket Team. A right-arm leg spin bowler, he took 619 wickets in Test cricket and remains the third-highest wicket taker. Kumble was awarded the Padma Shri, in 2005. In October 2012, Kumble was appointed the chairman of International Cricket Council (ICC)@aps@s cricket committee and is the President of Karnataka State Cricket Association.
To mark the occasion Mr. Atul Temurnikar, Chairman and Co-Founder, Global Schools Foundation was also present along with Mr. Rajeev Katyal, Country Director, GIIS India. Mr. Temurnikar said, "At GIIS we are constantly striving to deliver the best of opportunity to our students. Chandu Borde Global Cricket Academy is one such endeavour to introduce the game of cricket in a structures manner to achieve Sports Excellence. Our holistic approach to learning helps GIIS students develop multi-dimensionally."
Mr. Chandu Borde on the occasion said, "GIIS Whitefield in its first year of inception has launched CBGCA and we are happy to announce that training in cricket starts today. The pitch is ready and we have fine coaches in place. We will now go ahead and start intense training and practice. I will be making periodic visits to mentor and guide the team. I look forward to our students becoming some of the leading cricket teams in the future."
Mr. Kumble said, "I am pleased to see the keen interest that GIIS is taking in cricket and trying to provide quality coaching, superior mentoring and opportunities to students to learn the sport well. Students who are inclined towards playing cricket will need to eventually go through rigorous training and it is at this stage when they are beginners in the game that the foundation needs to be set. The first step is commitment and the want to do better. Students need to be extremely fit and they should start by following healthy eating habit, regular exercise and disciplined life. I wish the young cricketers of GIIS all the best!"
There was an interesting cricket match held between GIIS Team comprising of students and staff and GIIS Parents Team to celebrate the inauguration of the cricket pitch. The GIIS Parent Team won the match and received the Winner's Trophy from Mr. Borde. It was the spirit of sportsmanship that came alive on the grounds.
Left to Right : Mr. Rajeev Katyal, Mr. Anil Kumble, Mr. Chandu Borde and Mr.
Atul Temurnikar meet the parents

The audience was ecstatic and listened with
great interest as the masters of the game
spoke on benefits of Cricket
GIIS Cricketers meet their favourite
Borde Sir

Mr. Anil Kumble tosses the coin in favour
of the GIIS Parent Team
GIIS Cheerleaders at their best

A master stroke from
Mr. Chandu Borde

A spin from Mr. Anil
Kumble
GIIS Cricket Match in full swing

Team GIIS all ready for
the match

The GIIS Parents Team
celebrate their moment
of victory
Media Snapshots
---
---
See More...
No Comments