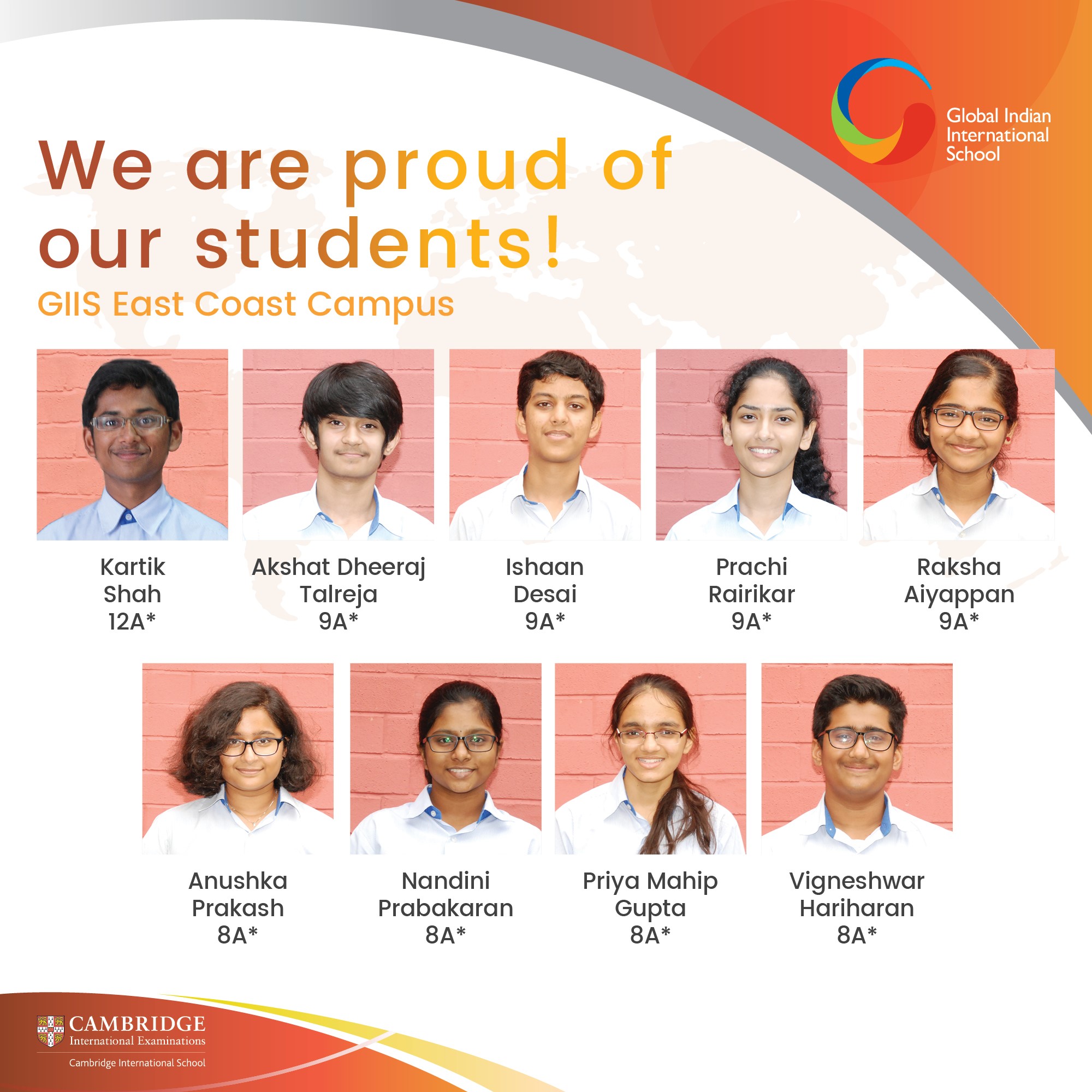 The landmark feat by the Class10 students of GIIS East Coast campus echoes its pass success and glory. All the students who appeared for the exam have secured good grades. The pupils have made GIIS proud with their resounding academic success.
Key Highlights of the IGCSE Results
100% students have passed the IGCSE class 10 exams
Kartik Shah has secured an impressive 12A*
3 students (Kartik Shah, Pranav Ganesh Kumar & Raksha Aiyappan) have secured PUM 100 in Mathematics (without Coursework)
4 students secured 9A* (Akshat Dheeraj Talreja, Raksha Aiyappan, Prachi Rairikar, and Ishaan Desai)
100 % students secured A* or A in Economics
100% students secured A* in Tamil
100% Students secured A* or A in Mathematics (without course work) in the present Std 10 IGCSE Batch.
The school topper Kartik Shah secured an outstanding score of 12A*.
Melissa Maria, GIIS East Coast Principal congratulated all the students for their hard work and also appreciated the efforts of the students, faculty, and parents for such a praiseworthy achievement.
Below is a list of students who have achieved up to 7 A*.
Sr. No

Name

Total Subjects
Appeared

No. of A*
Achieved

1

KARTIK SHAH

12

12

2

AKS​HAT DHEERAJ TALREJA

9

9

3

RAKSHA AIYAPPAN

9

9

4

PRACHI RAIRIKAR

9

9

5

ISHAAN DESAI

9

9

6

VIGNESHWAR HARIHARAN

9

8

7

PR​IYA MAHIP GUPTA

9

8

8

ANUSHKA PRAKASH

9

8

9

NANDINI PRABAKARAN

9

8

10

KARTIKEYA

9

7

11

DHRUV SINGH

9

7

12

GEETHIKA AYILLIATH

9

7

13

LIZ BAIJU

9

7

14

SHIVANI PRANATHARTHI HARAN

9

7

15

ARCHANA PRASAD

9

7

16

LIESHA MEHTA

9

7

17

SHUBHANGI GOEL

9

7

18

SMRITHI PRANATHARTHI HARAN

9

7

19

ANANT SHANKER

9

7