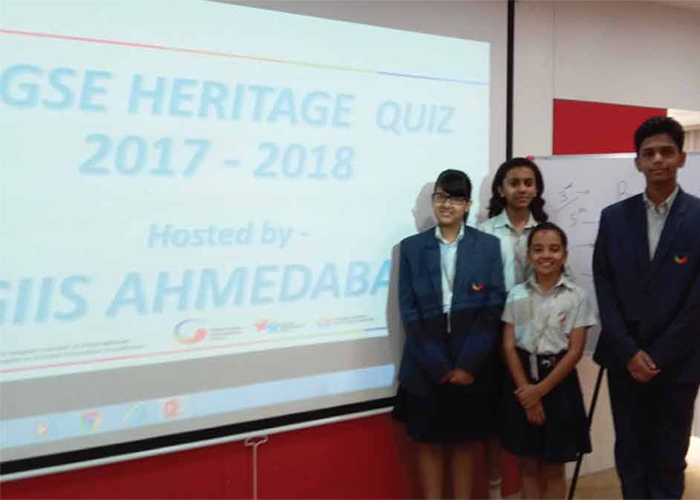 GIIS Ahmedabad hosted the GSE INTACH Heritage Quiz 2017-18, exploring the rich world of the rich Indian heritage with the purpose of creating awareness to preserve and save our rich Heritage. This was a part of the GSE (Global Student Exchange) programme of GIIS. With the focus on Heritage, the idea was to bring an awareness among the young GIIS students about the significance of our rich heritage and its amazing influence in portraying the various forms of Indian art, music, architecture or dance in the international fraternity.
The participating teams were GIIS Noida, GIIS Bangalore, GIIS Chinchwad, GIIS Surat and GIIS Indore. A team of 3 members represented each of these 5 campuses and all the students did really well in this Inter GIIS Heritage quiz. The Quiz was conducted as a Webex session and this was witnessed and judged by Mr. Rajeev Katyal (Country Director), Ms. Sunita Jaisingh (National Academic Head) and Ms. Vaishali Borde (National Head Co-scholastics and Early Childhood).
The Quiz was really interesting and based on the theme, had various rounds such as multiple choice questions, audio, visual, hit-a-bull's-eye and rapid fire round. All the students who participated seemed like aspiring heritage experts because of the verve of enthusiasm shown while answering the questions. The questions were ideally handpicked in order to ensure that every aspect of Indian Heritage was covered in the quiz. Art, craft, paintings, monuments, scriptures, books, eminent personalities, authors, poets, instruments and traditional dance form were the popular topics covered during the quiz.
GIIS Indore bagged the first place, GIIS Noida came second and GIIS Bangalore came third in this Quiz.
Position

Campus

Team Members

1st

GIIS INDORE

Lakshita
Jatin
Kavya

2nd

GIIS NOIDA

Sameeksha
Indraneel
Tanishka

3rd

GIIS BANGALORE

Aman
Aashi
Shri Uma
It was a great learning experience for all the students, and an innovative way of unfolding and preserving our Heritage. This quiz was part of the INTACH programme each GIIS campus participates in. The mission of INTACH (Indian National Trust for Art and Cultural Heritage) is to conserve the heritage of India which can be attained by living in harmony with heritage so as to enhance the quality of life. In fact, it is the duty of every citizen of India to safeguard and respect the heritage and spread the significance to the upcoming generations with pride.